Do you do natural hair?
Yes majority of our clients are natural and or transitioning.We do standard natural styles and protective styling to help clients maintain their natural hair health.

Do you offer hair straightening alternatives for natural hair?

Yes we carry Design Essential STS for naturals. It generally lasts 12 weeks or more. Great for client who shampoo every 2 weeks.

Do you specialize in hair care?

Yes , we offer many protective styling options and hair care treatments that help promote hair growth.

How long does it take to install a weave?
It take on average 2-2 1/2 hrs for average weave services. However, the time may be longer during peak hours (rush hour).


Does this salon make you wait a long time to receive services?

Generally we try to keep waiting between 15- 45max for your service. However if you don't schedule ahead of time the wait may be longer. We suggest calling in advance and coming during non peak hours for the most prompt service,.

Do you use products geared towards natural hair?
Yes, we carry non sulfate shampoo, cleansing creams and other styling products specifically for natural hair.

Do you offer hair?

Yes we carry Virgin Brazillian hair and Indian Remy. We have grade A quality and grade B quaility. Our grade B hair can last 4-12 months; while grade A can last for 1-2 yrs or more.

How do I take care of my new weave install?
We offer weave maintenance services that should be received every two weeks.
.

Do you specialize in hair weaving and extensions?

Yes we offer an array of services, and extensions for all hair types,


Do you do non black hair?
Yes, we cater to all hair types and ethnicities especially for hair extension /braiding services.


Do I need to schedule a consultation?
No not always , but for chemical and hair weaving services it may be best.


Do you offer tex laxing?
Yes we offer many relaxer formulas and custom chemical treatments for all curly hair types.



Shakira
This Unit uses High Quality Brazilian Hair . Shakira is definitely a sexy mamacita.This is a glueless unit, Has medium large closure. Very Durable one size fits all. Hair length 20 in hair effortlessly fringed to frame the face. Customized stock Units ship within 7-10 business days. No stylists required. Lasts up to 2 years with proper usage.
Shakira is a hybrid unit. Our 8a plus Brazilian Hair is used on this unit and Shakira's hair line is gently plucked to ensure the versatility in this style. This unit needs to be moisturized daily and requires wig brush for proper maintenace,
Shop Now
Brazilian Full lace Body Wave 1b 18in
This lace front wig can be parted all over and place in a ponytail.
. Wig comes with adjustable straps. Comes in Small Medium or Large. Pick one in comments to seller. This Unit can be made in straight, body wave, kinky straight, Creole Curly and Exotic Curl, a describe in comment to seller to pic unit style
Shop Now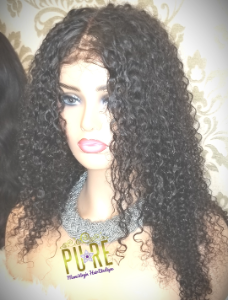 Diva Custom Wig Unit
Our Diva units have a stretch base and lies flat to head, no glue is needed for this unit


Shop Now